Technologies we deliver
we create dedicated teams with a remarkable level of proficiency in any of the technologies our Tech Stack includes - any combination of them, at any time
Mobile Development
Java
Kotlin
React Native
Flutter
Objective C
Swift
FRONT-END
Javascript
TypeScript
AngularJS
ReactJS
VueJS
Webpack
Grunt
Redux
BACK-END
Java
Spring MVC
.NET
NodeJS
Python/Django
Micro-services
DDD approach
Cloud Services
Amazon AWS
Redshift
Lambda
Athena
Microsoft Computer Vision API
Google Cloud API
Industry Recognition
and awards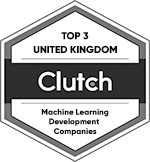 Certified
by Independent Organizations
Project in details
PitchBook Data
Financial & Market Data Platform
■ Leading financial data provider that covers the global venture capital, private equity, and public markets
■ We started servicing PitchBook from a pilot with a team of a few people, grown to a primary Full-cycle technology provider
■ Best Financial & Market Data Solution by SIIA for the eight consecutive years and GeekWires Deal of the Year winner
■ More than 263 applications and microservices have developed to serve business needs
■ Maintained a 95% CAGR over 10 years, PitchBook now is a part of Morningstar - global financial services firm with a market cap over $6B
■ Long-term business relationships that last more than 13 years with more than 250 releases (1 per working day) during only last year
Project in details
NimbleCommerce
Leading E-commerce solutions for promotions and gift cards
■ A Silicon Valley startup and over the last 9 years has become the largest promotional e-commerce platform in the world
■ Was acquired by global Leader of commerce solutions, Blackhawk Network, a $4B company
■ Over 3000 media companies as customers, including Disney, Staples, iTunes, BestBuy, Target, eBay
■ Development resources scaled successfully from the first employee to the team of 120+ specialists
■ All the technical leads at SPD have worked with NimbleCommerce for over 9 years
■ Post-acquisition partnership: Unification and Consolidation solutions development and support
People
Unique individuals,
shared vision
Award-winning, always learning and willing to share their knowledge
500+ full-time Developers, Product Managers, Business Analytics and Quality Assurance specialists
Certified by Java Oracle, ISTQB, Scrum Alliance and other organizations
Working with us for 5 years on average, keeping our team strong
Projects that they've developed were nominated and granted multiple awards, like SIIA CODiE and GeekWire Deal of The Year among others
Continuously helping students in SPD-University to learn technology fundamentals
Knowledge
BROAD EXPERTISE,
impeccable skills
Be confident in technical aspect, concentrate on business
Innovations

Mobile

Cross platform

iOS development

Android development

Enterprise

Product development

Data migration

XaaS development
How does it work?
Interview, video presentation, and special trial period options
Collecting requirements
We will conduct meetings to clarify the details of the project, requirements for the team, preliminary work schedule, and other organizational aspects to fully understand your needs
Gathering a team
We will assemble the team in the shortest possible time based on your detailed requirements and our standards, hire additional experts if needed or transfer them from other projects
Launching a team
After signing a deal, you will be able to add your new team to the development process instantly. You will receive detailed reports on each sprint and be able to adjust your strategy accordingly
Got questions?
we got answers